Cannula and Circuit
AngioVac products include the Venous Drainage Cannula and the Cardiopulmonary Bypass Circuit. The cannula is intended for the removal of soft, fresh thrombi or emboli during extracorporeal bypass for up to six hours. The cardiopulmonary bypass circuit is intended for use in procedures requiring extracorporeal circulatory support for periods of up to six hours.
Watch the Animation to Learn More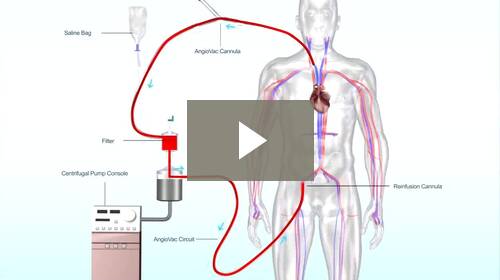 The AngioVac devices are for use with other manufacturer's off-the-shelf pump, filter, and reinfusion cannula, to facilitate venous drainage as part of a extracorporeal bypass procedure for up to six hours.
The AngioVac venous drainage cannula is a 22F coil-reinforced cannula.
The AngioVac Cannula is designed with a balloon-actuated, expandable funnel shaped distal tip. The proprietary funnel shaped tip enhances venous drainage flow when the balloon is inflated, prevents clogging of the cannula with commonly encountered fresh, soft thrombi or emboli and facilitates en bloc removal of thrombus.
Actual Procedure Results†
†An individual experience may not be indicative of all procedure results.